Antioch and Lakes Cross Country Livestream Alert!!! - Watch Live starting at 4:30 PM today!
https://livestream.com/d117live
. Tune in as Lakes and Antioch take on North Chicago and Grayslake North.

Lakes Students, Parents, and Guardians, Last week we instituted some mitigation procedures because of a high test positivity rate in the area. If you view the charts below you will see the rate has gone down to a level that we are comfortable lifting our mitigation measures. Starting tomorrow, all clubs and activities can resume in-person meetings and off-season athletics can resume contact days. If you have any questions please reach out to Mr. Newberry at
dave.newberry@chsd117.org
Sincerely, Lakes Administration

We will see Block B2 in the building Wednesday, 10/7 and Thursday, 10/8.

We will see Block B1 in the building Monday, 10/5 and Tuesday, 10/6.



Congratulations to the September LCHS Staff Members of the Month: Gage Rice (Math department) and Chris Snyder (CTE department).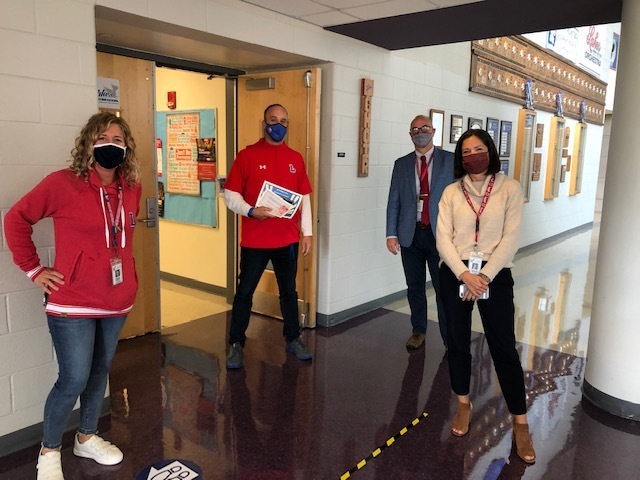 We will see Block A2 in the building Wednesday, 9/30 and Thursday, 10/1.

Sign up is now open for virtual parent-teacher conferences on 10/8 from 5pm to 9pm and 10/9 from 7:30am to 11:30am. Check your email for further direction and the link to schedule. Sign up closes at 3pm 10/5.


Wednesday, 10/14, ALL SENIORS will be in-person at Lakes for the state SAT test starting at 8:30 am. This exam is a graduation requirement for seniors. Due to this testing all FRESHMEN, SOPHOMORES, and JUNIORS will be full remote on Wednesday, October 14.

We will see Block A1 in the building Tuesday, 9/29. Don't forget, NO SCHOOL Monday, 9/28.
Just a reminder that THURSDAY night is the Sunset Showdown competition! Bring all your friends and come on out to be a part of the first competition of the school-year! -Bonus point if you come and you're wearing the new Royal Rush shirt with the red crown!!! -This event will be located on the field hockey/baseball field from 6:30-7:30. Each person's temperature will be taken before entering this event! Masks need to stay on at all times!

We are welcoming Block C2 into the building on Wednesday, September 23 and Thursday, September 24. See you soon Eagles!

Due to an accident involving a semi-truck near the transformer at Rt. 173 and Deep Lake, Lakes Community High School temporarily lost power for about 30 minutes. The power is back on now.

Watch our Girls Tennis Team take on Antioch on Livestream today! Streaming starts around 3:30. Go Eagles! Pick your court and enjoy!
https://livestream.com/d117live
#canthushtherush