Last week, roughly 50 cast and crew members were invited to the 47th Annual Illinois High School Theatre Festival in Champaign, Illinois to perform their unique rendition of William Shakespeare's As You Like It. This was director Daniel Esquivel's 9th show at Lakes, but it's his first time directing one of Shakespeare's plays. "I grew up loving Shakespeare and with ISU, which is a huge Shakespeare school… When I was a freshman, I saw a 30-minute crash-and-tumble version of As You Like It. It's his most sarcastic and funniest shows," Esquivel said.
One of the major challenges for a show like this is the length. Whereas a performance at the Globe may have run over three hours, high school directors will typically shorten them to under two hours.
"I spent the summer cutting it down to our 90-minute iteration, and then we added more stuff into it ended up being around 100 minutes," Esquivel said.
The cast also had their fair share of preparation before rehearsals started. Senior Joshua Zientara, who was cast as Orlando, took a unique approach. When he found out As You Like It was the selection for the fall play, he went to YouTube: "I watched like the 1929 version. It was like so old, black and white. And I watched the entire movie. And I was like, oh my god, this is not funny," Zientara said. "I've never really done like a really serious character. I'm always like the goob, the weird comedy guy. I'm used to falling all over the stage. And so [in this play] I'm like trying to be this like Disney prince," he added.
Juliana Lopez, a junior playing the part of Celia, relied on her extensive stage experience to prepare for the show. "It was a lot of learning the language," Lopez said. "With Mr. E, the first half of every rehearsal was straight-up comprehension." Not only do the actors have to understand the play themselves; they also have to perform it in a way that makes it easier for the audience to understand. Shakespeare's language was not the only challenge, however.
Mr. Esquivel staged As You Like It as a 'three-quarters thrust,' meaning that the audience surrounded ¾ of the stage, which can change how the cast interacts with the audience. "It's so different because you're normally so used to a regular stage [and] cheating out," Zientara said. "You had to really hard focus on your diagonals." Part of what made the production unique was this decision to essentially flip the auditorium.
"If you do it to a huge theater, you lose that intimacy and you lose that personality and especially for such a show that we wanted it to feel cozy. We wanted it to feel like it was a place that you could feel comfortable and safe," Mr. Esquivel said.
During the October run of the play, an adjudicator from the IHSTF came to assess the performance. It is their job to choose shows from this region of the state that qualify for making it down state. Early on in rehearsals, though, Mr. Esquivel and his cast had a good feeling about their chances to be selected. "When we started to do runs at the end of the rehearsal process, there were some really, really remarkable moments from all of the actors," Esquivel said.
An additional challenge in moving their play from Lakes to central Illinois involved restaging it in a new space, the Foellinger Great Hall in the Krannert Center for the Performing Arts. "The coolest moment was walking in for the opening ceremony on Thursday night. [It was in] the same spot that we were going to perform. We knew like okay, 900 people, it's like a lot of people, but you don't realize it until you see it. It was wild. I was like frozen on the spot," Lopez said.
On the morning of their performance, they had to be on the bus by 7:00 am, which meant that there were cast members doing make-up by 5:30 am. The first show was performed at 10:30 am. One aspect that really stuck out to Juliana Lopez was the chemistry of the cast. In the story, characters Rosalind (played by Abigail Block) and Celia are friends. "It was very fun to play with her because we are really good friends," Lopez said. "It was really cool and it was a lot easier because we could actually just realistically banter [as friends and as characters]."
The chemistry of the cast extended to the understudies and overstudies. Kris Tenoso and Nico Lopez both played the same part, and each was able to perform in Champaign as well. "They were a really good pairing of over- and understudy, and they worked really well together. Whenever Nico would go on for understudy runs, Kris was always there, and vice versa. Nico ended up performing for one of our shows at State, and Kris was off in the wings, every single scene setting and watching and cheering him on," Lopez said.
Their weekend in Champaign included more than just a performance of their play. The Illinois Theatre Festival also afforded Lakes students with the opportunity to attend other schools' performances and workshops led by professionals.
Lakes Community High School is incredibly proud of the staff, cast, crew, and parent volunteers who made this show possible. We look forward to their next production, William Finn's musical comedy, The 25th Annual Putnam County Spelling, which will run in March.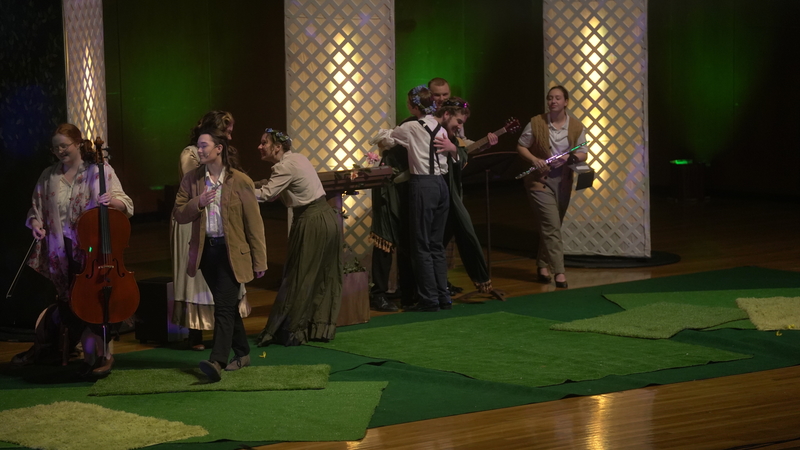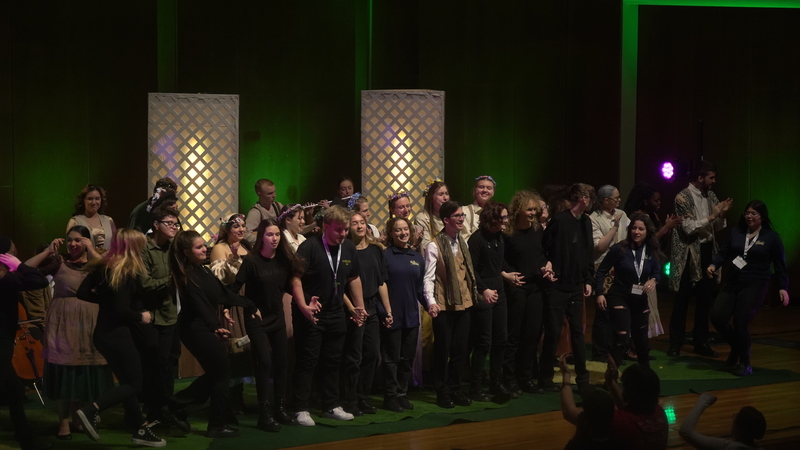 Photo Credit: Ian Murphy and Dallas Wuorenma